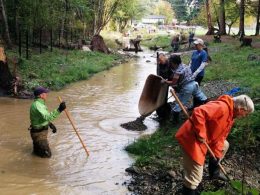 On September 24, 2016, once again more than 20 BCWS volunteers pitched in with rakes, shovels, and wheelbarrows to distribute over 17 yards of spawning gravel into Brooklyn Creek. The gravel went into the new channel downstream of Noel Avenue next to Gaglardi Academy in Comox.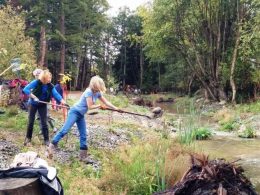 Thanks once again to contributions and support of the Town of Comox and Fisheries and Oceans Canada and in-kind services and materials from local businesses.
The gravel is an important enhancement to the new channel which will hopefully provide habitat for spawning coho to build redds. Redds are trenches that the female salmon digs for her eggs placement.